Lifting Equipment
Lifting Gear
We offer a wide range of lifting equipment for hire or sale with our cranes. Choosing the right lifting gear is key to increasing the safety and speed of your lifting operations.
Our most popular items for hire include brick forks, block grabs, chains, slings, mortar tubs and tipping skips. For reinforced concrete work we stock a wide range of concrete column skips.
We only supply the best quality Secatol and Probst equipment for ease of use, longevity and safety.
we also hire and sell Chains, Slings, Mortar Tubs and much more!
Crane Services
Lifting Gear


We supply a range of lifting gear for hire and sale.
Popular items include chains, slings, brick forks, block grabs, and tipping skips.

Top quality Secatol and Probst equipment

Crane Mats

For sites where it is not possible to cast concrete bases we can supply a range
of timber, nylon, and aluminium mats.
Generator Hire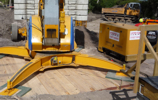 If mains power is not available we can supply 3 phase generators to power your crane.
Generators are typically 40-50kVA in size and can be supplied
with additional bunded tanks to increase capacity.
Aircraft Lights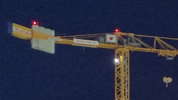 Sites that lie within 6km of an aerodrome (small general aviation airfield, large commercial airport, military airbase, or a heliport) must be equipped with aviation warning lighting.
Mains powered and solar options available.
Work Lights
Lights fixed to the crane are a good solution to improving site safety during night working hours.

Anti-Climb
To prevent unauthorised access to tower cranes, we can supply suitable anti-climbing systems.